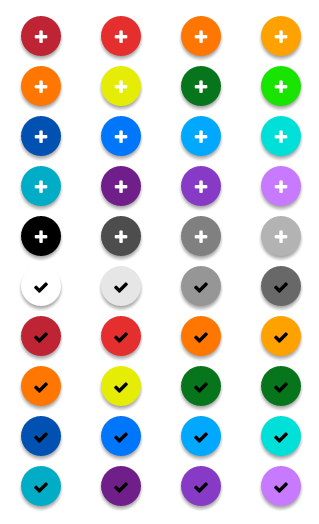 Our folks at Max Foundry have been researching which buttons work best on modern sites and as a result we are designing 3 new button packs, specifically designed according to the material design guidelines published by Google. The first set features floating action buttons, which are circular in shape and come in various colors to suit your theme. These are the first of 3 standard button types as per the button component section created by Google.
We've included 2 versions in this set:
         1. Round buttons with white plus signs
         2. Round buttons with black check marks
It is recommended that this type of button only be used for important actions and the suggested best practice is to only use one of type of button per container.
As with almost every button pack offered by MaxButtons Pro, this set is fully editable. We've used font awesome icons here so you are able to change the icon, color, size and more.
Download Floating Action Buttons today to start using them on your site,
Here are some of the most recent packs we have released:
We've also got a wonderful package available for those of you that would love to have access to all of our buttons. The 'Every Button We've Got' package includes one year of access to our library of over 5,000 WordPress buttons that is growing bigger every week.