In Version 4.18 we built a Font Manager for Google fonts you can use for the text of your buttons. We now include the entire set of the Google fonts in MaxButtons Pro. Over 700 of them. In the Text section of the buttons editor you will see a blue Manage Fonts link to go to the Font Manager. You can also search for a specific font. Click on a font to see an example of how it looks or visit the Google Fonts site to see them. We are pretty excited about this implementation because it allows you to easily manage sourcing and selecting just the font you want from a very large set. If you where looking for a particular Google font it is now in the plugin.
We released Version 4.18 of MaxButtons and MaxButtons Pro. We highly recommend that you download the latest version of MaxButtons Pro from your Account page on the MaxButtons Pro site or update it the plugin dashboard if you are using Version 4.10 or later.
It is actually more likely that you will want to use one of the basic fonts or the top 25 Google fonts we have included in the Text font dropbox. Just select the box to those fonts from the list.
The second big upgrade is the ability to add background images to use as part of your buttons.  This is helpful if you want to use your logo or a graphic and possibly include text and have it operate as a button.
Additionally we added the ability to add custom CSS to your buttons.  This feature is located under the Settings tab and allows you apply CSS to individual buttons or all of the buttons on your site depending on what you add.  Global changes in this section will any other CSS on your site.
Finally, the button editor now gives you a warning message if you try and go to another page without saving your changes.
A pretty big update for MaxButtons Pro.
Massive Social Pack
As promised last week we have made our sweet brand new massive social pack free for the next week!  So download it today from the site when logged in or from your Account page in the button packs section.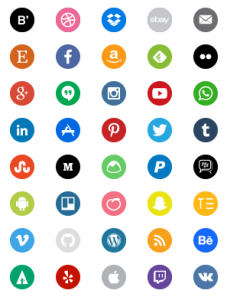 Thanks and enjoy your weekend!
The Max Foundry team