According to the latest tally, there are 54,210+ WordPress plugins listed at WordPress.org alone.
When the numbers get that high, you gain a new appreciation for the phrase "spoiled for choice."
So how can you dig through that massive directory and find the plugins that can actually make a difference to your bottom line?
One way is to test a bunch of plugins for yourself…a better way is to ask successful marketers which plugins they live by.
We went with the second option! Here are the 14 WordPress plugins recommended by 11 successful digital marketing professionals.
1. Justuno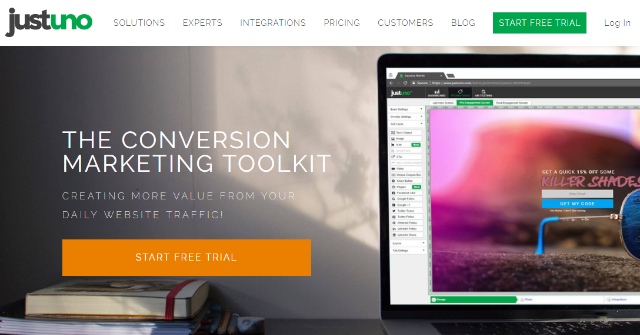 What it is:
Justuno brands itself as the "conversion marketing toolkit" for eCommerce stores. That toolkit gives you lead capture tools, sales promotions, cart abandonment solutions, and onsite messaging.
Who it's for:
Because it covers everything from email marketing to in-cart promotions, Justuno is a great option for anyone looking for an all-in-one marketing solution for a WordPress eCommerce store.
What the experts say:
"When it comes to a full suite ecommerce plugin, few on the market are as complete as JustUno. From capturing emails and personalizing the entire web experience with smart pop ups to a simplistic way to run A/B tests with ideas; it's a great tool." – Ross Simmonds
2. Inbound Rocket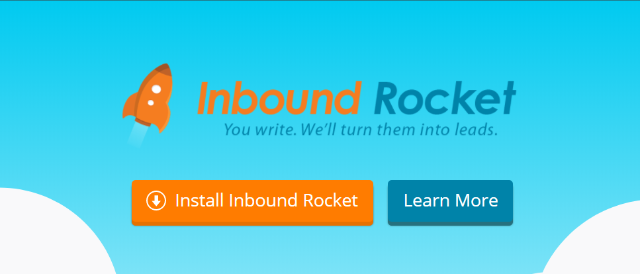 What it is:
Inbound Rocket brings the power of marketing automation to your WordPress site. It helps you track the actions of all of your visitors, even anonymous guests. Then, as soon as a user registers, you can put that information to work.
Other features include tools to boost your social shares and help you generate more leads in the first place.
Who it's for:
If you've been looking to experiment with marketing automation but have been scared off by the thought of trying to integrate a third-party tool into WordPress, Inbound Rocket provides a great platform-specific solution that lets you do everything right from your WordPress dashboard.
What the experts say:
"Inbound Rocket gives you lots of different options to convert the visitors on your website into leads for your company. But next to that it also builds an entire profile of that lead, so you can send a warm welcome email based on their interest, instead of the generic cold email that you would typically use." – Hans Van Gent, founder at Inbound Rocket
3. Pixel Caffeine

What it is:
Pixel Caffeine is a Facebook marketer's dream. To get started, it makes it simple to add the Facebook Pixel tracking script to your WordPress site.
Here's where it gets cool, though:
Pixel Caffeine then takes things a step further by making it dead simple to add conversion tracking and create Custom Audiences right from your WordPress dashboard. You can even do this on WordPress-specific data – like whether or not a user is logged-in to WordPress.
Who it's for:
Pixel Caffeine is built for anyone who uses WordPress and runs Facebook ads. Because it includes special integrations to track WooCommerce activity, it's especially helpful for eCommerce stores running on WordPress.
What the experts say:
"Pixel Caffeine lets you easily install your Facebook pixel on every page of a new WordPress site. You can also configure standard events on your site without using a tag manager. It's great for marketers who are non-technical." – Zach Grove, growth marketer at Drip
4. WebEngage

What it is:
As the name suggests, WebEngage helps you engage with your visitors using personalization, segmentation, and cross-channel communication. As part of that, you can create hyper-targeted polls and surveys to gather feedback.
Who it's for:
Though the tool is pricey, it's a good option for those who are looking to engage across multiple channels with personalized content.
What the experts say:
"WebEngage is a perfect customer feedback WordPress plugin. It's important to gather qualitative insights in addition to your digital analytics in order to improve the user experience and ultimately convert more users. This plugin makes it easy to run polls, surveys, etc." – Alex Birkett, growth marketer at Hubspot
5. Yoast SEO

What it is:
With over 85 million downloads, Yoast SEO is, by far, the most popular WordPress SEO plugin. It helps you nail your on-page and technical SEO by covering everything from XML Sitemaps to page titles, noindex tags, and even content analysis.
Who it's for:
Everyone! If you want people to see your website in Google search, you need a plugin like Yoast SEO.
What the experts say:
"My favorite plugin is Yoast SEO https://wordpress.org/plugins/wordpress-seo/ I love it because it's an all in one SEO tool that helps me do most of the optimization from one place. I use it connect to Google search console, optimize page titles, URLs and noindex wasted pages. It's only been getting better and more robust as the years have gone by." – Sujan Patel, founder at Mailshake
"No matter which domain I install WordPress on, one of the must-have plugins is always Yoast SEO. It is a little gem, which if you're any bit serious about SEO should be part of your standard arsenal of plugins." – Hans Van Gent, founder at Inbound Rocket
Yoast SEO is an SEO plugin that is ridiculously powerful. It offers a great content analysis tool that helps you optimize every single post or page on your site. It also makes it ridiculously easy to optimize your content for search with keywords, titles, meta descriptions and social data." – Ross Simmonds
"SEO Yoast – It makes SEO so much easier, from submitting your sitemap, enabling open graph protocol, and editing Titles/Meta Descriptions Yoast is the jam." – Luiz Centenaro, optimization manager at Optimizely
"While it's not perfect does help remind you and help you optimize for SEO on every page and helps prevent you from forgetting about stuff" – Daniel Gold, Growth Marketer at Hushed
6. Jetpack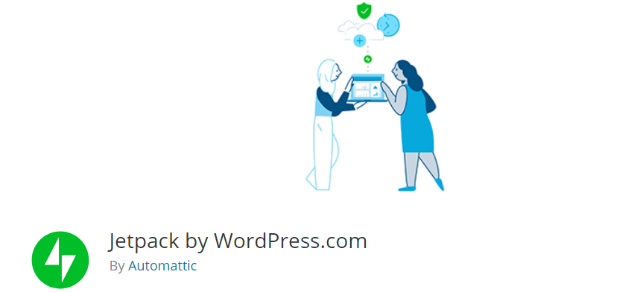 What it is:
Jetpack is a feature-packed plugin from Automattic that brings many of WordPress.com's most popular features to self-hosted WordPress users. Features on its lengthy (but modular) list include related posts, an image CDN, enhanced WordPress galleries, security tweaks, and tons more.
Who it's for:
Jetpack is great for webmasters who don't want to waste time searching around for individual plugins that offer similar functionality. If you want everything in one package, as well as some uniquely WordPress.com features, then Jetpack is for you.
What the experts say:
"Jetpack, just like Yoast. Jetpack by the team of Automattic themselves gives the website owner easy ways to maintain their website remotely (using the WordPress desktop or mobile apps) and some other nifty little things no website owner can go without." – Hans Van Gent, founder of Inbound Rocket
7. OptinMonster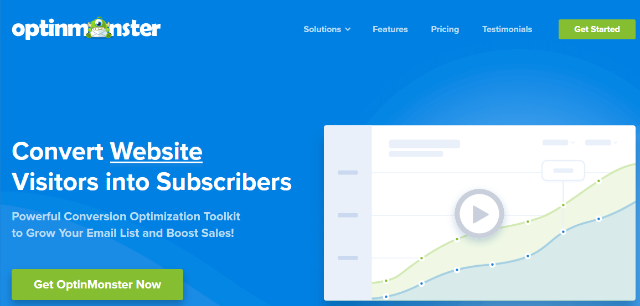 What it is:
OptinMonster helps you gather more leads by displaying targeted, well-timed opt-in forms. Essentially, it offers features that let you display the right offer to the right visitors at the right time.
Who it's for:
If lead generation is part of your business, OptinMonster is built to help you out.
What the experts say:
"OptinMonster is my favorite WordPress plugin because we built it to help us convert visitors into subscribers on our blogs. Some of my favorite features are the exit-intent technology that only appears when a visitor is about to leave the site and the 2-step optin that has users click a button before filling out their email address. These and many more features help turn visitors into subscribers and customers, making sure you're getting the most out of your website." – Syed Balkhi, founder of Optin Monster
8. WP Rocket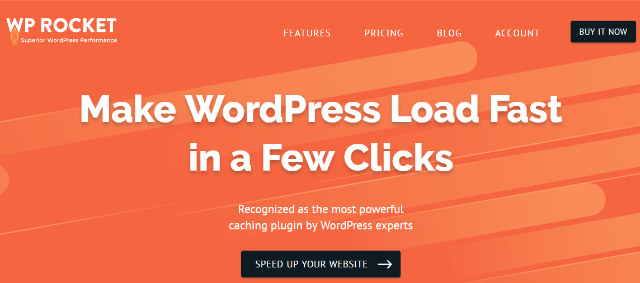 What it is:
WP Rocket is a premium WordPress caching and performance plugin. Its claim to fame is its easy activation process, as well tons of smaller, but optional, performance tweaks. If you're not already using a caching plugin, WP Rocket will likely cut your site's page load times by 50%+.
Who it's for:
Everyone. If you have a WordPress site, you need to find ways to make it load faster. WP Rocket is one of those ways.
What the experts say:
"It did wonders for speeding up 5 sites I manage. It was well worth the small fee compared with the free options that never worked the way I wanted them to." – William Harris, founder of Elumynt
9. Better Click to Tweet

What it is:
Better Click to Tweet is a free plugin that makes it easy to insert Tweetable quotes (or other text) in your regular content. Visitors see a quote they like and can share it in just a couple seconds. By streamlining the process and removing friction, you can get your content shared more often.
Who it's for:
If you're at all concerned with boosting your site's traffic on social media, Better Click to Tweet is something you should test on your site.
What the experts say:
"It allows us to easily instill virality into all blog posts. Very user friendly and people universally accept Click to Tweets. Not enough people are using CTT embeds in their blog content." – Derric Haynie, founder of Vulpine Interactive
10. Tom Duracelli's Google Tag Manager

What it is:
DuracellTomi's Google Tag Manager is to Google Tag Manager what Pixel Caffeine is to the Facebook Pixel. It not only helps you add the Google Tag Manager code to your WordPress site, but it also lets you pass tons of WordPress-specific metadata into a data layer.
Rather than needing a developer, you can use simple checkboxes to select what data to send.
Who it's for:
Because it makes it so simple to add metadata to a data layer, this plugin is a great option for anyone who's using Google Tag Manager and WordPress.
What the experts say:
"Tom Duracelli's Google Tag Manager – It's mandatory to have GTM and your Facebook pixel installed on your site. This helps put the code in the right place without having to hire a dev. Then, anytime you need to install a pixel or verification code onto your site, it's easy to just hop into the back of GTM rather than pay a dev $100/hour." – Derric Haynie, founder of Vulpine Interactive
11. Disqus

What it is:
Disqus offers an alternative to the basic WordPress comments system. With this plugin, you can integrate the Disqus commenting platform into your site. Advantages of this system include the reduction of spam as well as potentially more engagement because Disqus makes it easier for commenters to respond to comment replies.
Who it's for:
If you're buckling under the workload of moderating spam comments or just want to experiment with potentially creating a more engaging comments section, Disqus is a good option to look at.
What the experts say:
"It's the largest and highest quality way to allow users to comment on posts without getting millions of spam messages. Mandatory for bloggers." – Derric Haynie, founder fo Vulpine Interactive
12. BlogVault

What it is:
BlogVault is a WordPress backup plugin that essentially puts your backup process on autopilot. It automatically backs up your site to BlogVault's servers every single day. And it also includes tons of other beneficial features like malware scans, easy staging, and one-click migrations.
Who it's for:
Every WordPress website needs a backup solution. While there are quality free options, BlogVault is a great option for people who are willing to pay for a automated, hassle-free solution.
What the experts say:
"It's one of the best solutions for WordPress backups and takes out all the tech hassle." – Jan Koch of WP Mastery
13. Editorial Calendar

What it is:
Editorial Calendar lets you manage your upcoming blog posts on an actual calendar. In addition to the helpful bird's eye view, you can rearrange posts on the calendar using simple drag and drop as well as manage drafts and edit posts right in the calendar.
Who its for:
If you're running a busy blog (especially one with multiple authors), then Editorial Calendar can help make your life a whole lot simpler and more organized.
What the experts say:
"Editorial Calendar was a total lifesaver. It allows you to manage all of your articles on a Trello-like calendar. It's simple, but perfect for busy content marketers who don't want to waste their time switching from Trello to Google Docs to WordPress." – Shanelle Mullin, Content & Growth at Shopify
14. Sumo Share

What it is:
Part of the Sumo suite of tools, Sumo Share makes it easy to add social share buttons, including share counts, anywhere on your WordPress site. Then, it makes things a bit smarter by letting you automatically reorder your share buttons based on the highest-performing layouts.
Who it's for:
While you need to be careful about implementing social share buttons on conversion-focused content, social share buttons are generally a good idea for at least parts of every WordPress site.
What the experts say:
"Sumome's easy social share buttons. Showing shares really helps lend credibility for the viewer of the content and how much they should take it seriously." – Daniel Gold, Growth Marketer at Hushed
Out Of The Mouths Of Marketers
As you'd expect from marketers, many of these plugins lean towards either analytics or promotion, with a few thrown in to optimize your site and secure its data.
Give them a try and see if they can boost your site's bottom line!