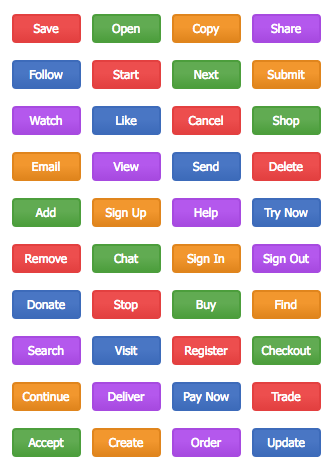 Cheers to another new set of buttons released today! Easily add ready to use website buttons to your WordPress site for actions such as buy now, checkout, search, follow, email and more. Featuring 5 color gradients, easy to read white text and a simple design this button set is meant to help you on your way to creating a great site.
This set includes 40 different buttons and includes these actions: save, open, copy, share, follow, start, next, submit, watch, like, cancel, shop, email, view, send, delete, add, sign up, help, try now, remove, chat, sign in, sign out, donate, stop, buy, find, search, visit, register, checkout, continue, deliver, pay now, trade, accept, create, order and update.
Don't forget that the MaxButtons Pro plugin allows you to edit any of the buttons you purchase as part of a pack. That means you can change the text, the color and more.
Free for a week, download Basic Gradient Buttons now!
We are always looking for ideas and inspiration for new button packs that our MaxButtons fans would love. If you have any requests, please don't hesitate to contact Nicole.
Our goal is to release at least one new button pack per week, so make sure to follow us on Twitter and check your inbox for news and releases.
Check out some of our other new button packs: